Some paddlers muscles are sore, pampered with Ibuprofen or Superfoods to keep going, others just wake up after the first 13 hour paddle day. " I prefer continuos events, after 15 years of adventure racing, my body gets in the groove on day two to day eight," says Robyn Benincasa. Like William's hands most everyone's fingers are taped for today's paddle and the start is very competitive. Everyone pushing hard resulting in the field sticking together for quiet a bit, but it is still 40 Miles to go. Unlike yesterday we have a slight river down wind, which combined with the outgoing tide will speed everybody up a bit.

Constantly counting paddlers, binoculars are the only way to see them at times, Roman Kraus, co founder of the event, while updating Facebook to over 900 virtual followers … Touch and go, the adventure teams are getting the paddler exchanges down utilizing the launch 5 boat 'Patrolman Henry A. Walburger' under Capt. Porteus's secure navigation … Time for a cool down, race director and co-founder Andrew Mencinsky leads the lapsing members of the adventure team into the Hudson river.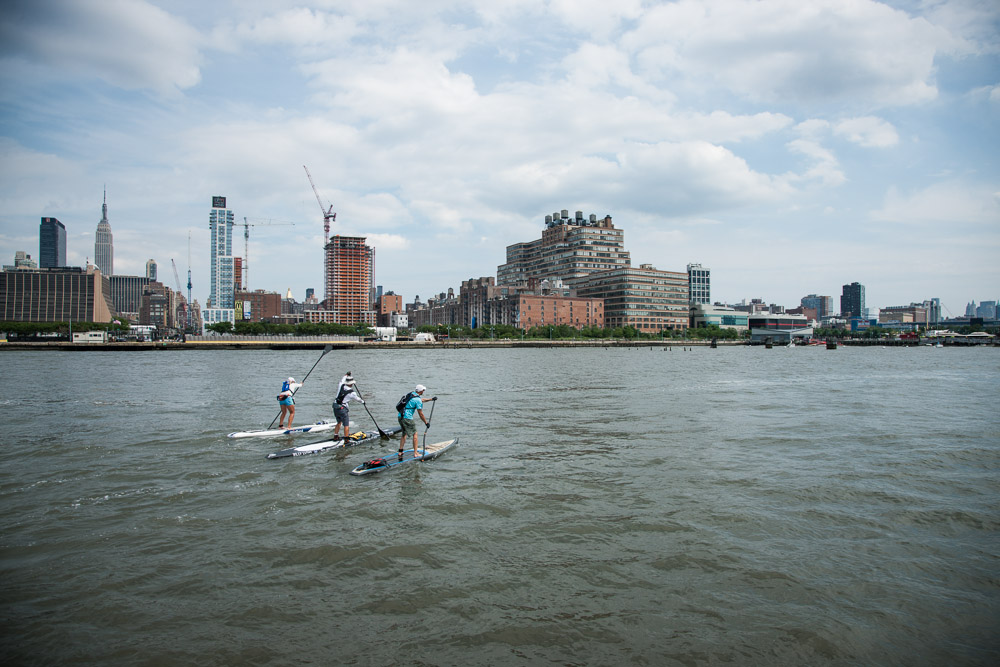 William Rich stood his ground and finished first, followed by Ian, Garrett and Ed of the adventure team, closely followed by Carol Choi in her outrigger. Karen Wrenn finishing first in the women's elite class followed by Robyn Benincasa. Though, with almost $20,000 raised for the various charities, it feels like everyone involved in this amazing event won. This has been a great inaugural launch and it always amazes me how people pull together under more extreme condition and the great energy it produces, check how Shane Perrin, Robyn Benincasa and Timm Ed line up to finish together in a great display of comradery after paddling 100 miles.
For more info go to 100MilePaddle.com or check their Facebook.