Website update coming soon, please stay tuned
"I was born and raised in the most northern rural area of Germany, between the North and Baltic Seas. The southern Bavarians call us Fish Heads. At this latitude, one can experience island life by the North Sea, or rural agriculture villages, or small harbor towns on the Baltic Sea fjords. Life in the Baltic is tough and hearty, and my connection with its nature runs deep. The forests, fields, lakes, oceans, and beaches have been my backyard since childhood. Photography was at first a hobby and a vehicle of expression in art class, but by the end of the '80s it became my profession. The camera became an extension of myself, and my body became part of the process; it just fit with me, and I responded to its action and its timing. Moving to the U.S. in the beginning of the '90s opened up many photographic possibilities. I started organizing adventure trips to shoot products where I could take the clients out of the cities and back out into nature. At the time, I lived between Europe and the U.S. I was everywhere, testing and pushing myself. The sky was the limit then, and adventure and action sports were growing into an industry of their own. Before long, the field evolved and became about breaking limits—the concept that man could challenge himself in ways you couldn't have dreamed of in the past. Photographic technology has evolved so much, especially in recent years, and it is often hard to tell reality from truth. So I strive more than ever for authenticity. My photographs are of real events, of human endeavors, and the truth and shock of the frame."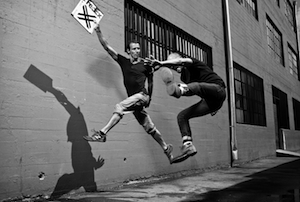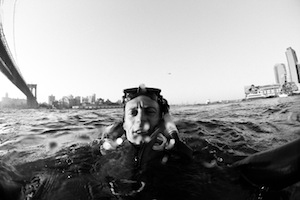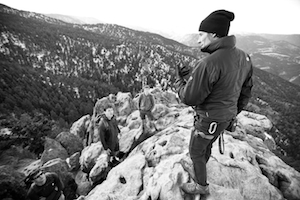 STOCKLAND MARTEL SAID: Jorg's photographs fuse precision and the untamable. Precision in that Jorg is both strategic and thorough in his preparation for a shoot, much the same way that an Olympian vigilantly prepares himself to perform at his best. The untamable part? That's the best way we can think of to describe the spirit of Jorg's photos. He can get inside of an athlete's head and heart to express what drives them, what they are trying to achieve, and why it's worth the fight to get there. And he can harness the unspeakable beauty of a natural landscape so that we, too, can experience the state of awe that viewing it in person inspired. In fact, it's essential to him that we feel as in awe of it as he did when he was there. Such is his sense of responsibility to nature. Often, Jorg shoots campaigns that combine these skills. Ads that capture the thrill of driving a snug, sporty convertible on a sun-bleached highway— wide-open powder-blue skies and mile-wide grins. A motorcyclist taking a bike out for an ecstatically dirt-spitting ride. Sluicing through sparkling snow on a pair of high-performance skis. The products are different each time, but at the heart of all of Jorg's images is the humanity—the thrill of interacting with the product. For years, Jorg has been shooting video as well, a practice he is continuing now that technology has evolved so favorably. Something tells us we're in for a wild ride—and we're looking forward to it.
CLIENTS:
ADVERTISING:
1+1 Tele Communication Campaign
German Sailing Team America's Cup
Accelerade Soft Drink
Altria Group
Blinde Optics Eyewear
Boehringer Ingelheim Animal Pharma
Campbell's Soup
CBS
Discovery Channel
Eisai Pharma
Ortho-McNeil-Jenssen Pharma
FitX
Grohe
Iams
Kodak
Labello
Life Time Fitness
Nivea
Nikon
Novartis International
Pictet Investment Bank
Sony
Samsung
SeaWorld
Telekom
US Navy
Infiniti
Kawasaki
Nissan
Toyota
Adidas
Adidas China
Asics
Bogner
C-9 Champion
Eddie Bauer
The Finish Line
GAP
K-Swiss
LadyFootlocker
Nautica
Nike
Network
Neverest
New Balance
The North Face
Ralph Lauren – RLX
Reebok
Revo
Target
Timberland


AGENCIES:
Adidas - International
AKA Advertising - NY
Armada - Montreal
Berlin Cameron and Partners - NY
Carmichael Lynch - Minneapolis
Campbell and Ewald
Carlson and Partners - NY
Doe Anderson - Louisville, KY
Donahue Purohit Miller - Chicago
Doyle Dane Bernbach - Berlin
Gyro World Wide - Philadelphia
Hallmark Business Expressions - KC
JWT - Frankfurt
Jung von Matt - Berlin
Legas Delaney - London
Leo Burnett - Chicago
Leo Burnett - Milan
Leo Burnett - Japan
McCann Erickson - NY
McCann Erickson - Frankfurt
Nike Design - Beaverton, OR
O'Leary Partners
Ornelas and Associates - Dallas, TX
Peterson Milla Hooks - Minneapolis
Rocket &Wink - Hamburg
Saatchi and Saatchi - NY
Saatchi and Saatchi - LA
Saatchi and Saatchi Rowland - NY
Scholz&Friends - Hamburg
Shortcut - Berlin
Target - Direct
TBWA - Hamburg
TBWA Chiatday - LA
TBWA - Shanghai
Torre Lazur McCann - Parsippany, NJ
Young and Rubicam - SF
Young and Rubicam - NY


EDITORIAL:
Harper's Bazaar - USA
Adeyaka Magazine – Infiniti
Backpacker Magazine - USA
BIG Magazine
Businessweek - USA
Capital - Italy
Conde Nast Traveler - USA
Elle - Italy, Turkey
ESPN - USA
Fit For Fun - Germany
LIFE - USA
Lexus Magazine - USA
Men's Health - USA, Germany, UK
Men's Fitness - USA
Mens' Journal - USA
National Geographic Adventure - USA
The New Yorker - USA
New York Times Magazine - USA
New York Times Play - USA
Newsweek - USA
Outside Magazine - USA
Geo - Germany, China
Glamour - Mexico, Spain
GQ - USA, Italy
Playboy - USA, Germany
Popular Mechanics - USA
Shape Magazine - USA
Seventeen - USA
Self Magazine - USA
Ski Magazine - USA
Sports and Fitness - USA
Stern Magazine - Germany
Unlimited - Magazine - USA
Vibe Magazine - USA
Vogue - Germany, Brazil
Welt der Wunder - Germany
Wellfit - Germany
Women's Health - USA, Germany
JORG BADURA WINS PRESTIGIOUS 58TH COMMUNICATION ARTS ANNUAL PHOTO AWARD 2017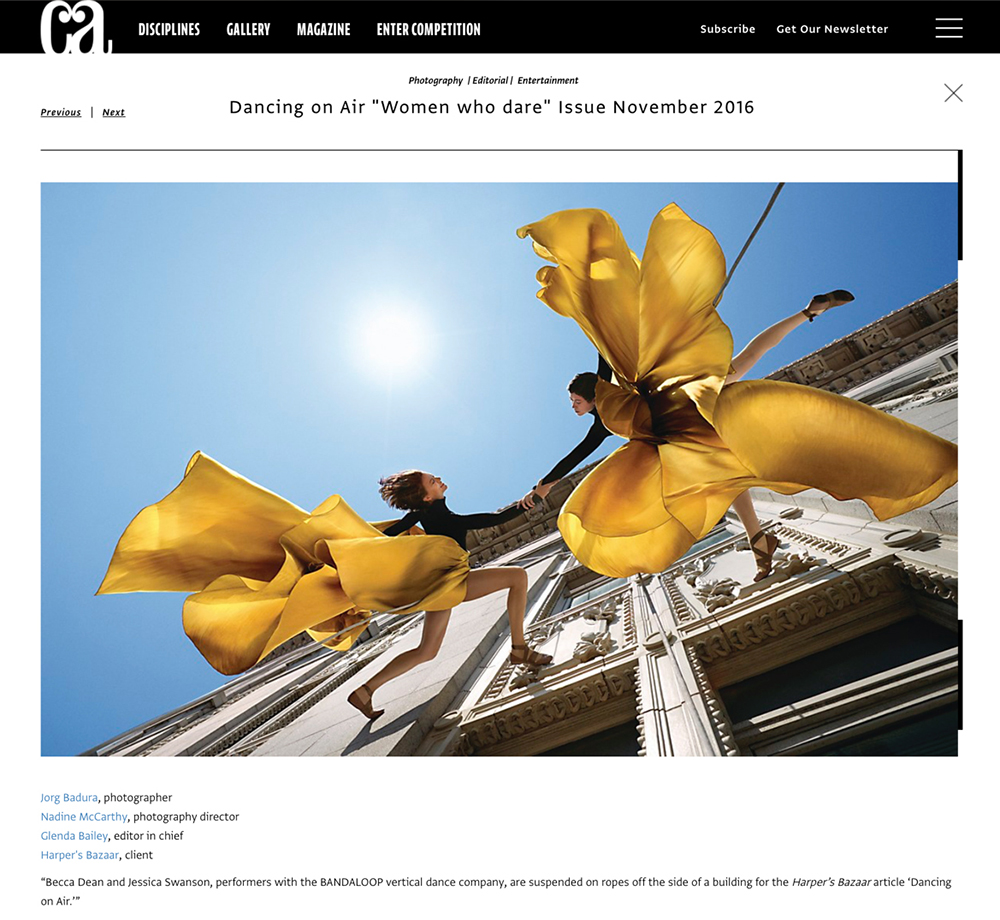 Chosen on the basis of creative excellence and quality of execution of the 3,736 entries submitted to the 58th annual photography competition, only 141 were selected by a jury of respected creative professionals, representing the work of photographers, videographers, design rms, agencies, publishers and in-house creative departments.
To see more info and winners go to http://www.commarts.com/magazine/2017-photography
Jorg Badura's images are part of the first NYC Marathon Exhibition at the Museum of the City of New York.
THE NEW YORK CITY MARATHON: THE GREAT RACE. OCT. 20, 2015 – MARCH 8, 2016.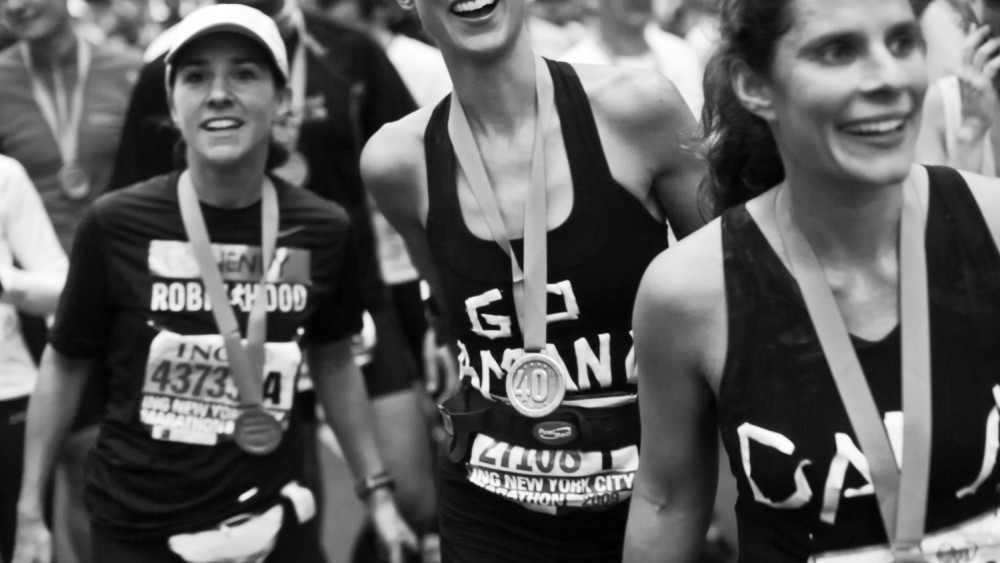 It is one of the ultimate celebrations of strength, of endurance, and of the city. The TCS New York City Marathon is the world's largest footrace, with more than 50,000 participants from around the globe and more than one million spectators along a route that winds through diverse neighborhoods from Staten Island to the Bronx. The exhibition, featuring more than 100 images made by professional and amateur photographers, and video footage, captures the energy, enthusiasm, and spirit of community that New York's "Marathon Sunday" is all about.
For more info : http://www.mcny.org/nymarathon
See more of Jorg's NYC Marathon images HERE
Jorg Badura Collaborating with Rocket&Wink for FitX: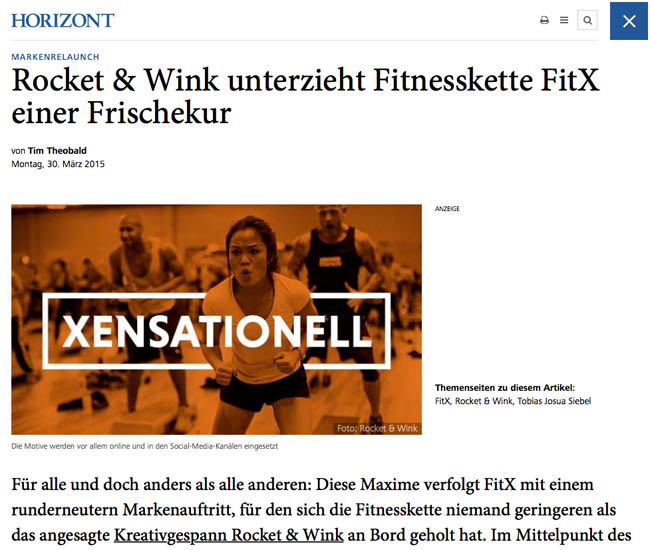 Rocket & Wink undergoing fitness chain FitX a Freshening
For all and yet unlike any other: This maxim followed FitX with a round RETRY tern brand identity, for the fitness chain has none other than the hip creative duo Rocket & Wink brought on board. Center stage, with which FitX visible apart from the competition, are both emotional photos in reportage style and unusual illustrations.
With the numerous designs and infographics that are distributed primarily online and in social media channels, the company wants to deliberately introduce unlike other chains that rely heavily on the spent cliché of perfect bodies and young, attractive studio visitors. Instead FitX want to emphasize the joy that
belongs to the physical training, "With Rocket & Wink, we have deliberately opted for creative courage to radically break with the industry The new brand communication we raise the apparent what all people together.: fun. joy brings people together, "says Tobias Joshua Siebel, Marketing Director at FitX.
The brand relaunch encompasses a new logo (see above), a retreaded corporate design and a modified interior design studios. As a new claim leads FitX, which was founded in 2009 and previously worked with any agency, also "For All Of Us" a, which is flanked on the motives of catchwords like "Xuperdrauf" and "Xensationell". The aim of the new brand communication is there, the supply chain "to communicate more strongly to the outside and the people with enthusiasm for fitness. Whether young or old, fat or thin, weak or strong"
The decision in favor of Rocket & Wink did not fall this about in a selection process. Rather, those responsible for the fitness chain are specifically approached the designer because they convinced their work for other brands as a marketing staff against HORIZON Online announced. In addition to the digital actions and out-of-home and print ads are used, which always refer to the opening of new studios. The new imagery in the studios and the campaign images created in collaboration with the New York photographer Jörg Badura, the models depicted are mainly own employees.
Read the original german version
http://www.horizont.net/agenturen/nachrichten/Markenrelaunch-Rocket--Wink-unterzieht-Fitnesskette-FitX-einer-Frischekur-133624.
Read more on page-online.de or see the entire campaign on Rocket&Wink or FitX websites
PHOTO DISTRICT NEWS - FEBRUARY ISSUE - 'Going Mobile: Jorg Badura's Paddle Up Portraits':
I feel honored to share with you that PDN (Photo District News) magazine is highlighting part of my Mobile Studio Set Ups on the example of the Portraits shot at the intense Seapaddle NYC events. The interview by Dan Havlik gives a great idea of how we solved challenges, adapted and got very real, intimate, yet athletic post-race photo portraits.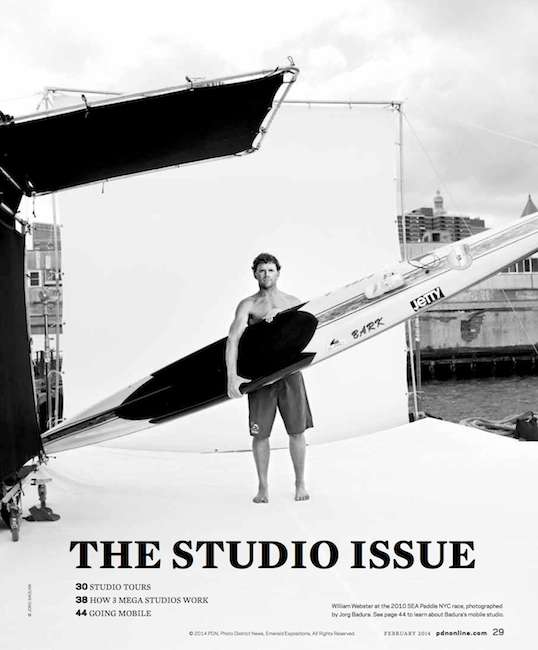 Here is a taste for now. For the full article, please visit pdnonline.com or your closest newsstand.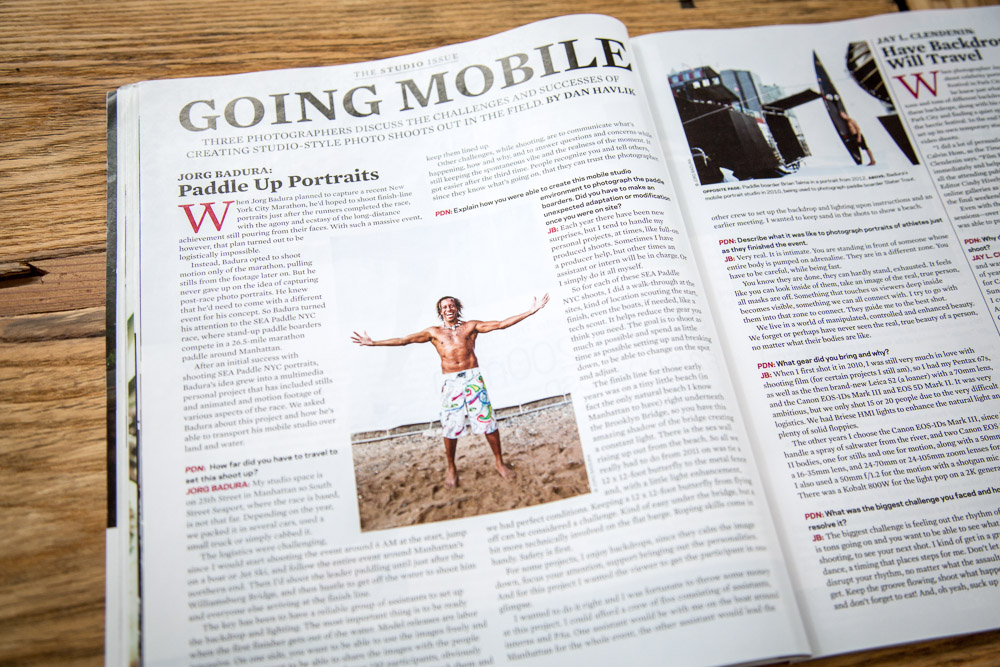 SPEECH AT THE SCHOOL OF VISUAL ARTS:
In case you are interested here is a 1hr 13 min speech, I held at the School of Visual Arts in New York about my commercial photography using behind the scenes shots to elaborate on production issues we have run into and how we solved them. I incorporate little tricks and urge you to follow your vision no matter what ! The intro is a little unusual via a few minutes of silent slide show of some of my best images, but you might enjoy the ride. Many thanks to the video department of SVA for creating this interesting cut with original images and video embedded. And many thanks to Katrin Eismann for being a supportive and delightful host.